Nowadays, the exhibition events have become the most effective tool for business marketing in different industries.
Organizer, Exhibitor and Visitor - each of them would like to get a certain result from the event.
The main purpose of the Organizer is to increase status of the Event, primarily through an optimal informational and communicational environment, as well as the most comfortable conditions for the effective operation of exhibitors.
The Exhibitor would like to expand their customer base, to present their products and services and, of course, to increase sales.
It is important for the Visitor to get maximum information about products and technologies that got him interested; to get market appraisal; perhaps to find /select suppliers.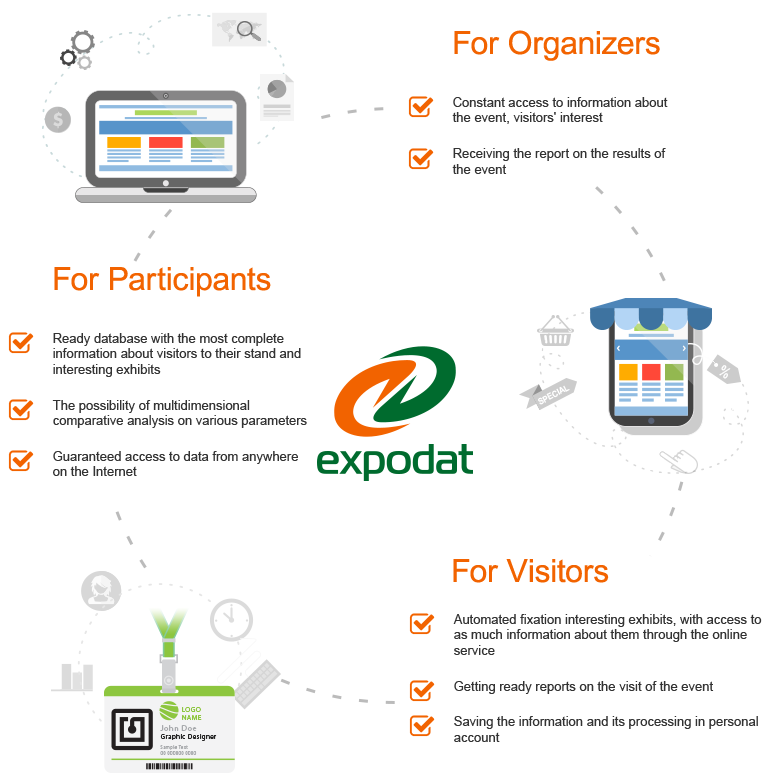 Problems:
The Organizer has no ability of getting the information about routes and interests of visitors within the event or analising it. After the event organizers have to manually process thousands of paper forms, to get at least some marketing information. Also it is difficult to organize control and restrict access to the VIP-zone on the "closed" conferences, seminars and presentations.
The Visitor loaded handouts, advertising leaflets and product samples are not always able to remember where and what interested him and how to find the right information among the wastepaper. Often, the visitor does not even manage to talk with representatives of the exhibitor because they were buzy.
The Exhibitors also have to keep a lot employees in the stands in order don't miss a potential contact; manually handle profiles and questionnaires, collect business cards and make efforts to none of its has been lost or damaged. At the end of the event they spend dozens of man-hours for processing and systematization of contacts.
Under present-day conditions, the exchange of information between the visitors, exhibitors and organizers associates with the huge effort and has considerable growth potential.
Hardware and software complex EXPODAT allows you to record on badges and tickets for visitors their personal data, date and time of visits, visitor status, and so on. Special electronic terminals installed in the exhibition halls and on the stands of exhibitors, will allow to realize operative exchange and storage of information. The visitor can leave request for any information on these products. Your badge should be applied to the terminal on the stand of the exhibitor and then you can select the desired menu item. Exhibitor receives information about what kind of products are interesting to the visitor along with contact information. Access to information for all participants of the event is organized on the portal in a private office.